Posted on March 16 2022
The Boom Pro is the latest racket line from tennis giants HEAD, designed for intermediate to advanced players looking to turn defense into offense. With an entirely new racket shape, and Auxetic technologies in the yoke, The Boom Pro is an arm friendly and feel oriented racket with all court capabilities, despite lacking qualities from other Head rackets. The new Morph Beam is a unique frame construction that merges an elongated box beam shaft with a powerful head for the perfect blend of feel and ease on court.  Auxetic constructions widen when a "pull" force is applied and contract when squeezed, and the uni pattern allows for a consistent ball trajectory on every shot for reliable and forgiving play.
Along with other Head Rackets, Graphene technology helps with stability, and the feel is plush with a large sweet spot. It is the heaviest racket in the series with an unstrung weight of 310g, but the swing weight is quick and user-friendly, especially for groundstrokes. The blend of power, and control can land groundstrokes deep in the court, and there is access to nice topspin shots. It's not as whippy as the Boom MP, and as a result, players can expect to hit deep, pretreating groundstrokes, with options for backhand slices.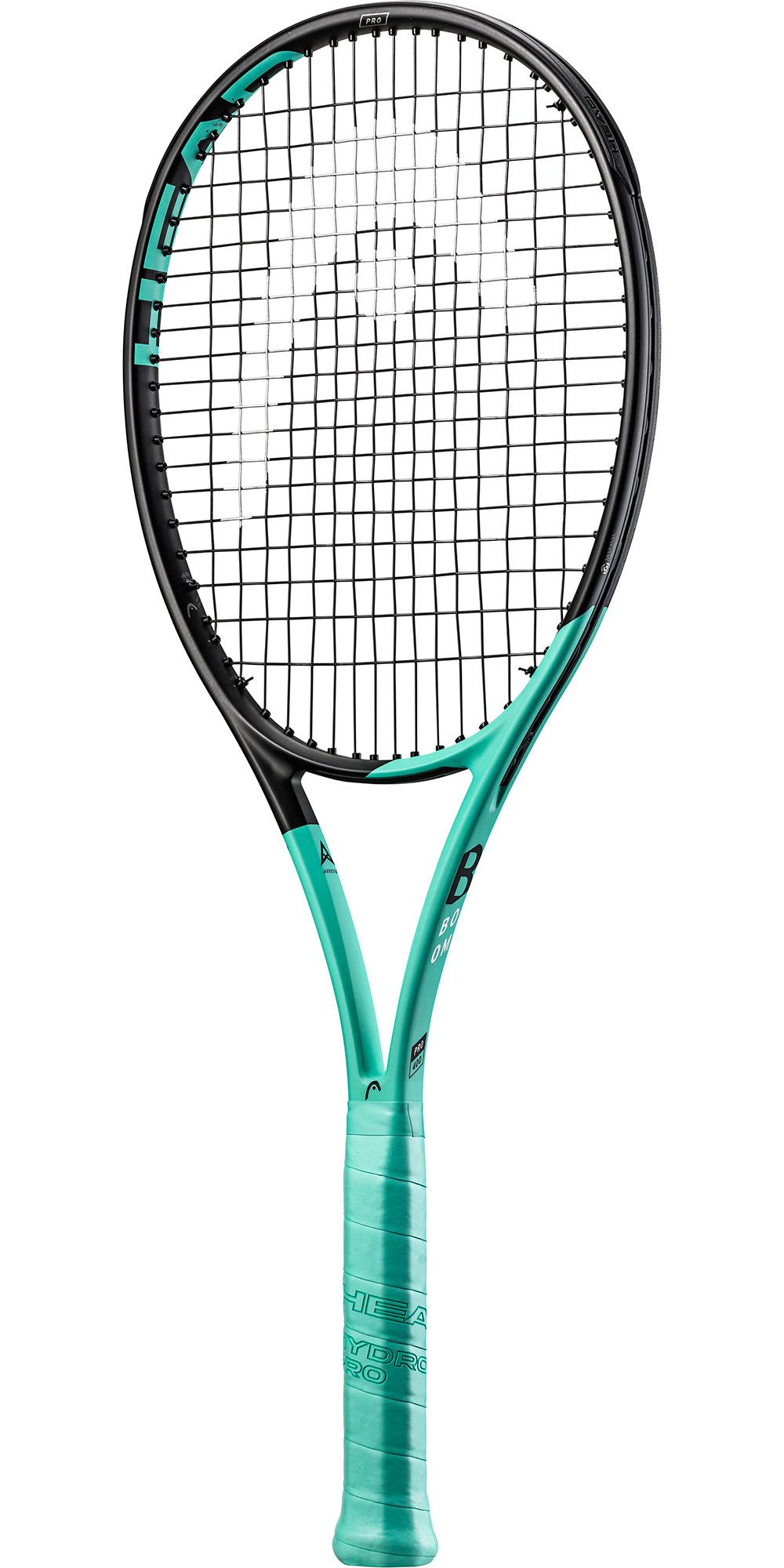 The Boom Pro is very fun to swing with, and it has a forgiving response, but there are times where you can feel disconnected to the ball. The Prestige Tour offers similar characteristics for groundstrokes, but the Boom Pro is more maneuverable than the Prestige Tour, and its versatility provides players to play from offense to defense with ease. The 98 square inch head size ensures the racket can still offer power and great depth in such a feel-oriented frame, even if balls aren't as heavy as they should be. Up at the net, the versatility shines again, with the maneuverability and stability providing a reliable and predictable net game. Angle and drop volleys are a breeze, and the feel helps with touch volleys. It performs well when you need a soft touch to drop the ball short or stick a volley to hit through the court. The stability protects you from big hitters, and the feel gives you the confidence to play a variety of volley shots. 
For serves, the fast swing weight creates a nice sense of pace and spin, and slices are very effective with the open string pattern. The racket moves fast through the air, generating spin and slice, and shot placement is easier if you can tone down the pace of your shots. It may take players a bit of practice to get acclimated to this frame, because of the weight and unusually fast swing weight. Serves definitely inject some burst and with the right technique, you can generate some solid pace, spin, and shot placement. The nice feel on the string bed attacks returns confidently and players can hold their returns a bit longer than normal, if they are used to feel-orientated rackets. The rackets versatility is on display again for returns, giving players comfort, stability, and spin. In an overall sense, The Boom Pro is a decent all court capability racket for baseliners looking for a stable racket that swings fast, with great feel, maneuverability, good spin and a nice amount of power. The versatility is its shining attribute, which is great for all court play. 
| | |
| --- | --- |
| Weight unstrung (+/-5g) | 310 grams |
| Head size | 98 sq in |
| Beam width | 22mm |
| Balance (+/- 5mm) | 310 mm (Head light) |
| String pattern | 16 x 19 |
| Length | 27 in  |
| Composition | Graphite |
Check out our Youtube Review of the Head Boom Pro and The Head Boom MP here!