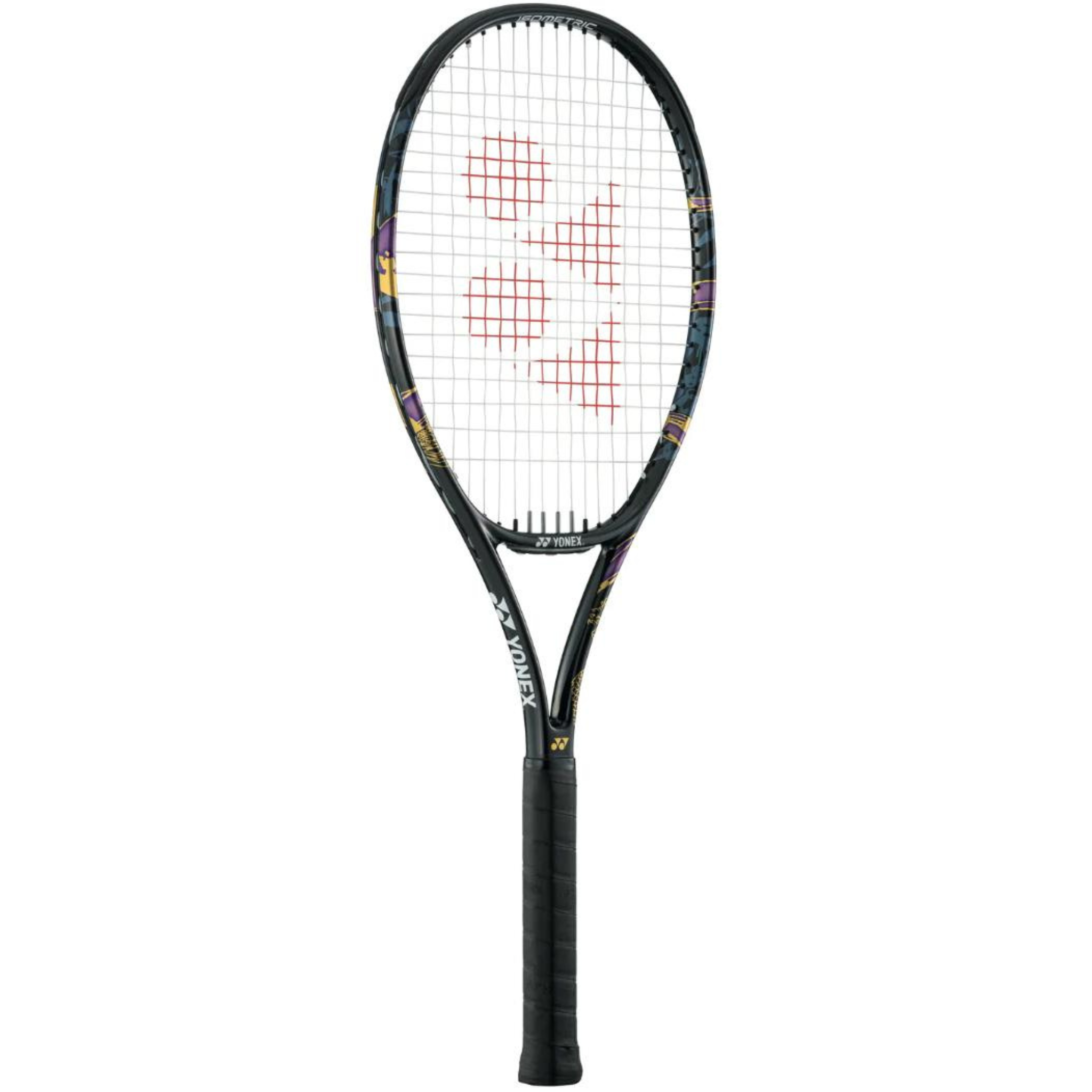 Yonex Osaka Team (2023)
Out of stock
The Yonex Osaka EZONE Team (2023) is a brand new racket, and is a great option for intermediate players who are looking for an arm-friendly racket, that does not break the bank. 
Brand > Yonex
Colour > Black/Gold
Suitable for > Intermediates
Endorsed by >  Naomi Osaka
The Yonex Osaka Team (2023) is the perfect option for players who may have had a break from tennis, and is looking to get back into it, or intermediates who are looking for a cost-friendly racket without sacrificing comfort. 
With the distinctive Isometric head shape, we found the racket to be forgiving, and had a large sweetspot. One thing I think can be tricky when looking for a more affordable racket, is that they tend to be very light, and geared more towards beginners and junior players. The Yonex Osaka Team has a great weight, because it adds extra stability and power, without it being too heavy, and hard to manoeuvre. 
When we tested this racket we were truly impressed with the quality of the racket. The Yonex Osaka Team is geared towards those who may not want to spend a fortune on their racket, and we think it demonstrates an amazing value for money. It also comes strung, so you can start using it right away. 
Yonex Osaka Team (2023) specifications:
| | |
| --- | --- |
| Strung or Unstrung? | Strung |
| Weight Unstrung (+/- 5g) | 290 |
| Head Size (sq. in) | 100 |
| Balance (+/- 5mm) | 335 |
| String Pattern | 16x19 |
| Length (inches) | 27 |
Yonex Osaka Team (2023) Technologies:
Isometric > This is Yonex's distinctive square-like head shape. This increases the sweetspot by 7%, making it a more forgiving racket, while not compromising on control. 
Liner tech > This allows for more spin to be generated, even when you hit the ball off-centre. This is done by keeping the main strings vertical with special grommets. These grommets also allow for more string movement, allowing the strings to grip onto the ball more, thereby generating more spin.
Oval Pressed Shaft > This feature includes rounding the shaft corners, as well as allowing the shaft to flex upon impact. This leads to a more comfortable feel and fewer vibrations. 
Aero Shape Design > This increases power and gives a plush feel. This is done by making the frame thinner and adding a thicker beam
New shaft Design > By creating a thicker shaft with a round design, Yonex has reduced unwanted racket rotations when you hit the ball off-centre.
We take pride in offering excellent customer service. If you need to change/return your items within 14 days of delivery please contact us on info@allthingstennis.co.uk or call/text on 0330 133 1378 (No returns offered on rackets with premium strung upgrade applied)