Posted on March 17 2022
The Gravity Pro benefits from Head's Graphene 360 technology,  a combination of Graphene 360's energy transfer and innovative spiral fibers for enhanced flex and clean impact feel. Offering a nice balance of stability, control, and feel, The Head Gravity Pro is a dynamic and modern racket for the aggressive player.  This iteration by Head delivers sensational feel and comfort to match with its plow through power, control and stability.
From the baseline, the racket performs very well, which compliments the aggressive all court style of play. There is mass to plow through the ball, yet it is still maneuverable enough to position. Reliability, stability, and a modern feel are the shining attributes when it comes to hitting groundstrokes. The racket has a distinctive feel, with its soft string bed and round head shape. The thin beam feels soft without sacrificing power and the round head shape is more spin friendly than other 18x20 rackets. The Head Gravity Pro is heavy and stable for directional control and big hitting, while also being light enough to maneuver for spin and slice. There is control and precision for groundstrokes, with the ability to counterpunch, and there is easy access to depth. Aggressive players will find plenty of success from the baseline, with The Gravity Pro 
| | |
| --- | --- |
| Weight unstrung (+/-5g) | 315 grams |
| Head size | 100 sq in |
| Beam width | 20mm |
| Balance (+/- 5mm) | 315 mm (Head light) |
| String pattern | 18x20 |
| Length | 27 in  |
| Composition | Graphite, Graphene 360+ |
Up at net, the modern feel and reliable stability delivers accurate volleys. The racket doesn't flutter at heavy pace, and the large sweet spot offers easy playability up at the net. The precision is great for a 100 square inch head size, and players can expect to hit a variety of volley shots with confidence including deadly droppers, block volleys, touch, punch, and angled volleys. Besides benefiting from its overall weight and balance, the18x20 pattern helps to keep players connected to the ball without sacrificing stability, power and feel.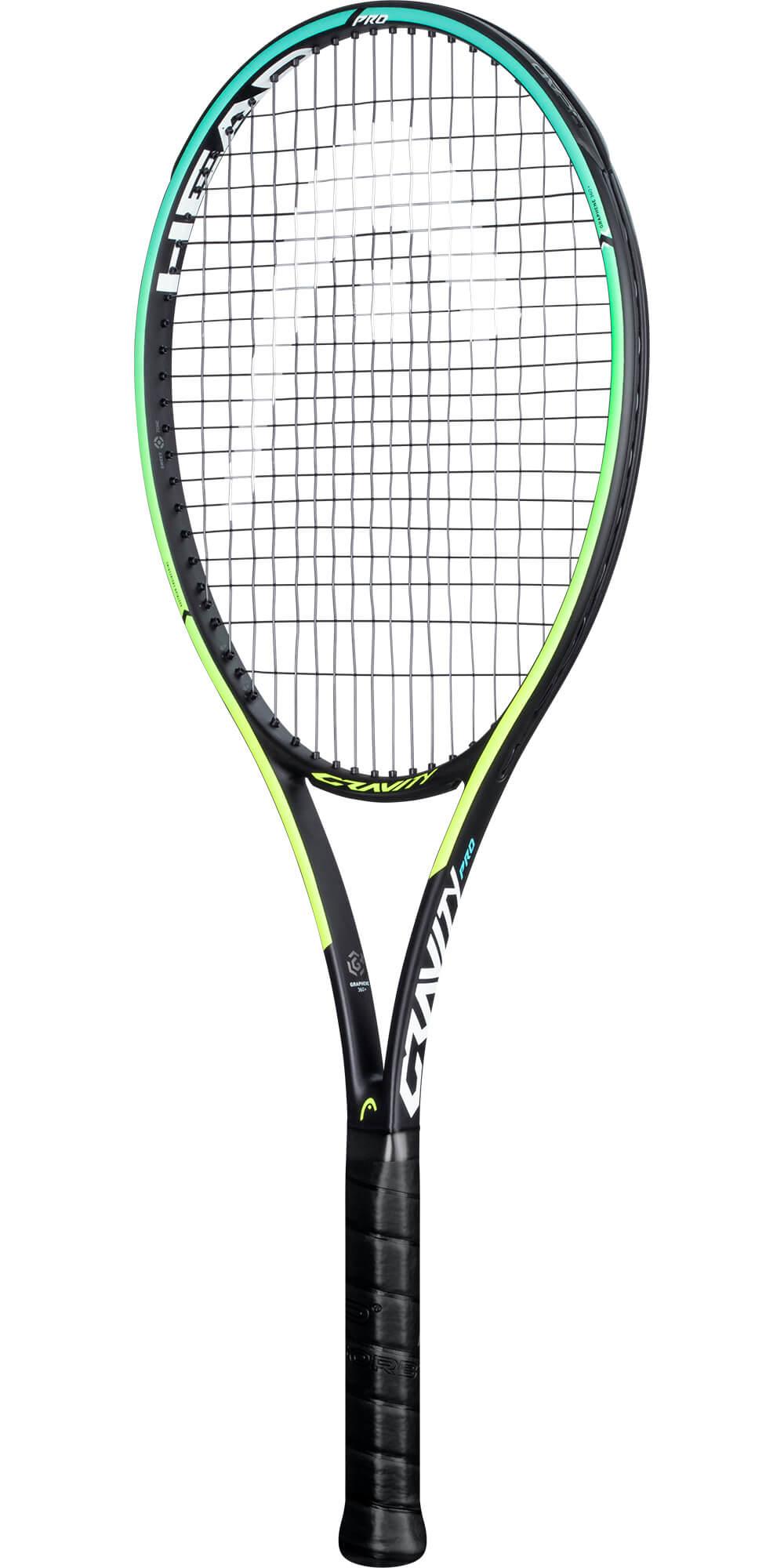 The Gravity Pro provides sufficient power, and spin for serves. Like groundstrokes, it is stable and heavy enough for big hits, and light enough to create your own touch and spin. Spin and slice serves are effective, allowing players stay aggressive on second serves. Whether you choose to serve flat or go for heavy topspin, The Gravity Pro should accommodate your serving game, even if it doesn't provide as much free power as the Pure Drive. But that doesn't matter because of the large spin window, and distinctive feel that this racket provides. Some all court players may be more suited to the specifications of the Yonex V Core Pro 97, but The Head Gravity Pro is a versatile beast to serve with.
Players will appreciate a controlled and stable response when it comes to returning with The Gravity Pro. The large sweet spot and stability can block heavy hits, and two handed backhanders will like the specifications the Gravity Pro offers. The racket is ideal for taking returns early and redirecting all of the pace back at the server. There are opportunities to slice with your backhand and big hitters will appreciate the controlled feel and tight stringbed, to swing fast and find their targets. The high level of stability, power, and feel are the traits that make The Gravity Pro is distinctive modern racket. The spin is unique for a 18x20 racket and the optimal feel needs to be experienced for yourself.