Posted on March 15 2022
The Babolat Pure Strike 18x20 is a great all-around racket for intermediate and advanced players due its nice balance of power and control, making it a great option for players who want to be able to do a little bit of everything on the court. The 98-square inch head size and 18x20 string pattern provide a more dense feel, that is needed for players who strive for optimum control. The choice of Dominic Thiem, A higher swing weight on this version puts extra mass behind the ball to redirect pace, knocking off opponents with surprising drop shots or powerful hits when playing fast strokes. This version is the most control orientated in the Pure Strike line, offering better durability and control than the 16x19 version. 
For groundstrokes, The Pure Strike is hefty, powerful and wonderfully balanced. Players who need more oomph with flat groundstrokes or backhand slices will greatly appreciate the rackets outstanding directional control. The 18x20 pattern provides a nice combination of launch and topspin and the accuracy can help players pinpoint their shots to wherever they want. Players who also have issues with comfort or overhitting should consider this version in the Pure Strike line because of the higher swing weight. It can keep players from overhitting, which can help with precision and shot placement in the long run. While not as powerful as the Pure Drive, there is still enough bite to hit heavy shots, spin, and nasty slices. There is a crisp response from the string bed, and the stability is reliable, especially up at the net.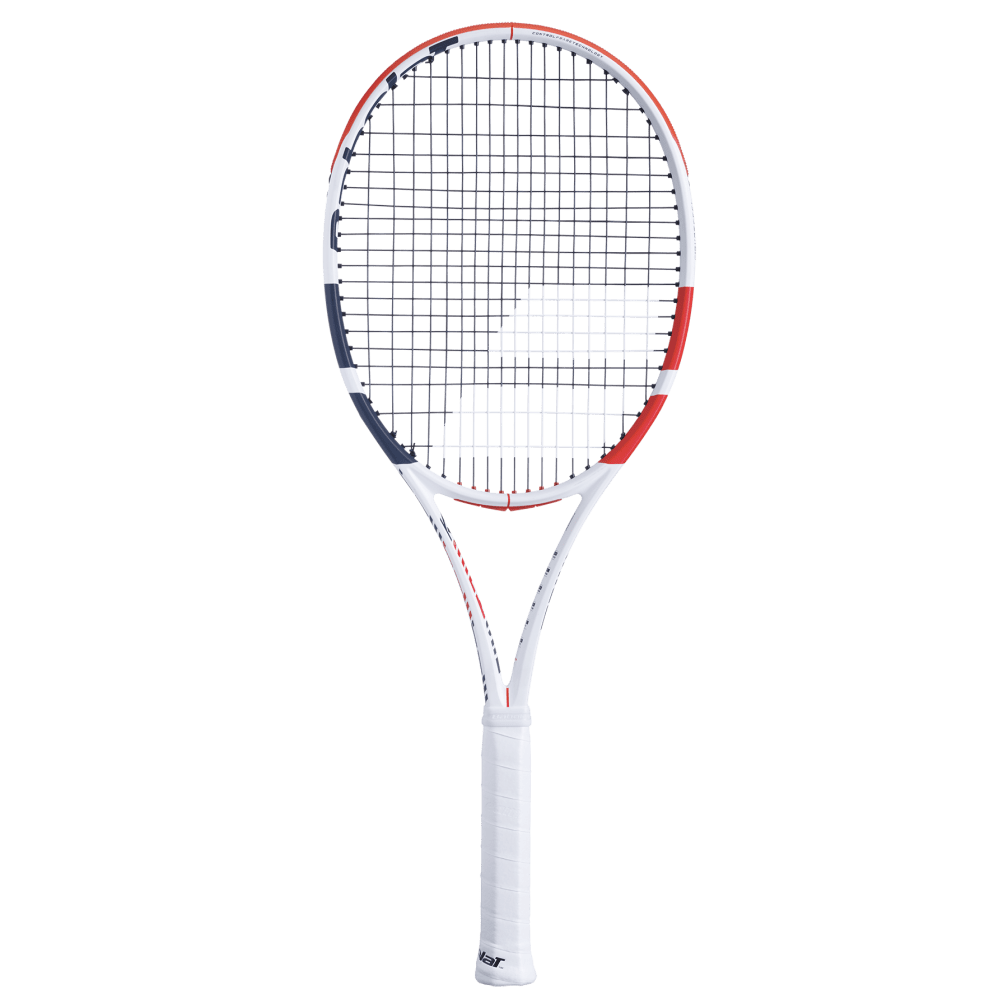 Because of the reliable stability, maneuverability is not much an issue for volleys. The stick is still quick enough to position it to your liking, but the maximum control can redirect the ball with ease. It feels very solid and reliable up at the net, rarely landing outside the sweet spot, but there is enough feel and crispness for touch volleys and off center shots. It provides a point and shoot experience, and while some players may prefer a whippier racket, there is good power for punch, block and angled volleys. To get the best out of the Pure Strike, simply let the racket do the work and keep volleys nice and simple.
There is nice plow through for serves and returns, with a nice access to spin as well. With the proper technique and eye for shot placement, The Pure Strike's shining attributes are control, accuracy, and spin, particularly for slice serves. Others may prefer the free power from the Pure Drive line, but there is enough mass at the hoop for the extra pop, that maximizes power and spin in the ball. For returns, the solid nature of the Babolat Pure Strike 18x20 gives players the opportunity to redirect pace easily. The stability and hefty swing weight are arguably the best attributes to hit short, chip, and slapping returns, for a smooth defense game. In an overall sense, The Pure Strike 18x20's balance of power and precision is just right. It's the perfect blend for your game, if you're struggling with the durability or specifications of the 16x19 version 
| | |
| --- | --- |
| Weight unstrung (+/-5g) | 305 grams |
| Head size | 98 sq in |
| Beam width | 21/23/21 mm |
| Balance (+/- 5mm) | 320 mm (Head light) |
| String pattern | 18x20 |
| Length | 27 in  |
| Composition | Graphite |