Posted on March 08 2022
Since it's launch in 1994, The Babolat Pure Drive has dominated the tennis market, proving to be one of the best selling rackets of all time. With the latest 10th generation iteration, players of any ability can pick up this legendary racket, and they can expect the same legendary power, spin potential, and accessible playability, with some necessary updates.
Babolat has introduced the High Torsional Rigidity (HTR) system which is a new lay-up composition in the hoop of the racquet for increased rigidity and SWX Pure Feel, a new technology featuring extended wrapping of SMAC technology, which provides great feel upon impact (and a sweet sound).
| | |
| --- | --- |
| Weight unstrung (+/-5g) | 300 grams |
| Head size | 100 sq in |
| Beam width | 23-26 mm |
| Balance (+/- 5mm) | 320 mm (Head light) |
| String pattern | 16 x 19 |
| Length | 27 in  |
| Composition | Graphite |
For groundstrokes, the sweet spot is more defined, with the racket providing a crisp response and a plush feel. The racket is comfortable and stable, with great access to easy power and spin, for approach and defensive shots in all areas of the court. While it can be easy to overhit shots with the free power, the Pure Drive is great for backhand slices, topspin, and plow through shots. You can also generate great racket head speed and power on your serve.
Up at the net, The Babolat Pure Drive is a solid performer. Net rushers may need a whippier racket, but The Pure Drive is great for smashes, block, drop, and touch volleys with its large sweet spot and stability. Some may prefer a crispier feel and pinpoint accuracy, but The Pure Drive can give you the confidence you need up at the net, especially for doubles games and improving players looking to find their technique.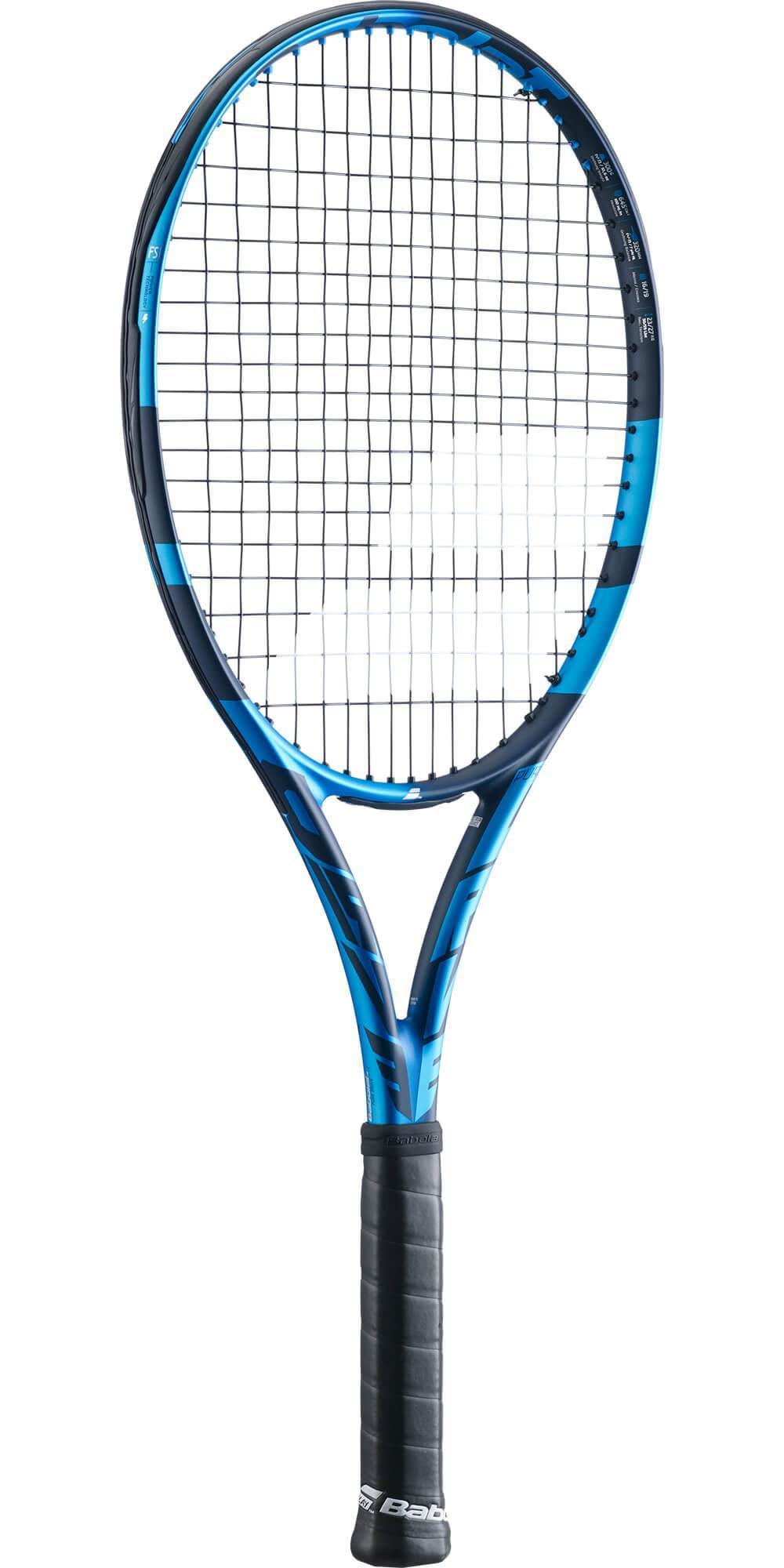 As expected, The Pure Drive is very easy to serve with, providing intoxicating levels of power and speed. The Pure Drive's extra oomph will give struggling or improving players the help they need to deliver flat, deep, kick, and powerful serves. Aggressive servers will love this frame because it is easy to generate head speed, for great and satisfying pop.
Precision and overhitting may be a problem for some players who are used to other rackets, but it is not a deal breaker and it could be rectified by adding weight to the hoop or other forms of customization. The Pure Drive is a joy to serve with, for power, spin and slice along with great stability. Many users of The Pure Drive say the serve is their favorite shot to hit with.
Similarly to serves, The Pure Drive  is great for aggressive returns, particularly for backhands. The responsiveness and quickness of the racket can allow the player to return early and the backhand shot can penetrate the court with some nice depth. The stability and feel can provide the offensive player with great confidence for returns.
In an overall sense, The Pure Drive is an offensive players dream. With its stunning cosmetic, players can rely on the maneuverability, power, and spin to truly dominate opponents. And most importantly, ten generations later, it is still a very fun racket to play with.