Posted on March 21 2022
The Babolat Pure Aero VS is the perfect racket for spin and control. The latest iteration features a thicker beam, more head light balance and a slightly heavier swing weight. The standout appeal of this racket is its versality for a wide range of playing styles. The Pure Aero VS combines the ultimate spin of the Pure Aero Rafa with the extra precision that your game demands.
Specfications 
The Pure Aero VS is equipped with the AEROMODULAR 3, an aerodynamic frame integrating the bumper and grommets increases your racquet head speed and spin generation. FSI Spin is a open string pattern with a woofer system that provides maximum spin with great feeling and superior control. Cortex Pure Feel is boosted by a new material integrated in the graphite of the racket, that provides pure feel with an incredible sound.
| | |
| --- | --- |
| Weight unstrung (+/-5g) | 305 grams |
| Head size | 98 sq in |
| Beam width | 21/23/22 mm |
| Balance (+/- 5mm) | 315 mm (Head light) |
| String pattern | 16 x 20 |
| Length | 27 in  |
| Composition | Graphite |
Groundstrokes
Spin and maneuverability are the shining attributes for groundstrokes. Players have the ability to hit dipping and angled groundstrokes, and there is good response on slices. Topspin comes very easily, the feel at contact is firm and crisp. The Aeromodular beam can take some time to get used to, but the racket pockets the ball with enough power to boss around the opponent from the back of the court. There is good depth to be found here, and there is enough comfort for flatter shots. It offers more control than the Pure Aero Rafa, and the stability is manageable. That said, the Pure Aero VS is a very customizable frame for swing weight and stability levels. Baseliners will appreciate the rackets control, and spin, and if you can naturally generate racket head speed with power and spin, The Pure Aero VS will help with your control.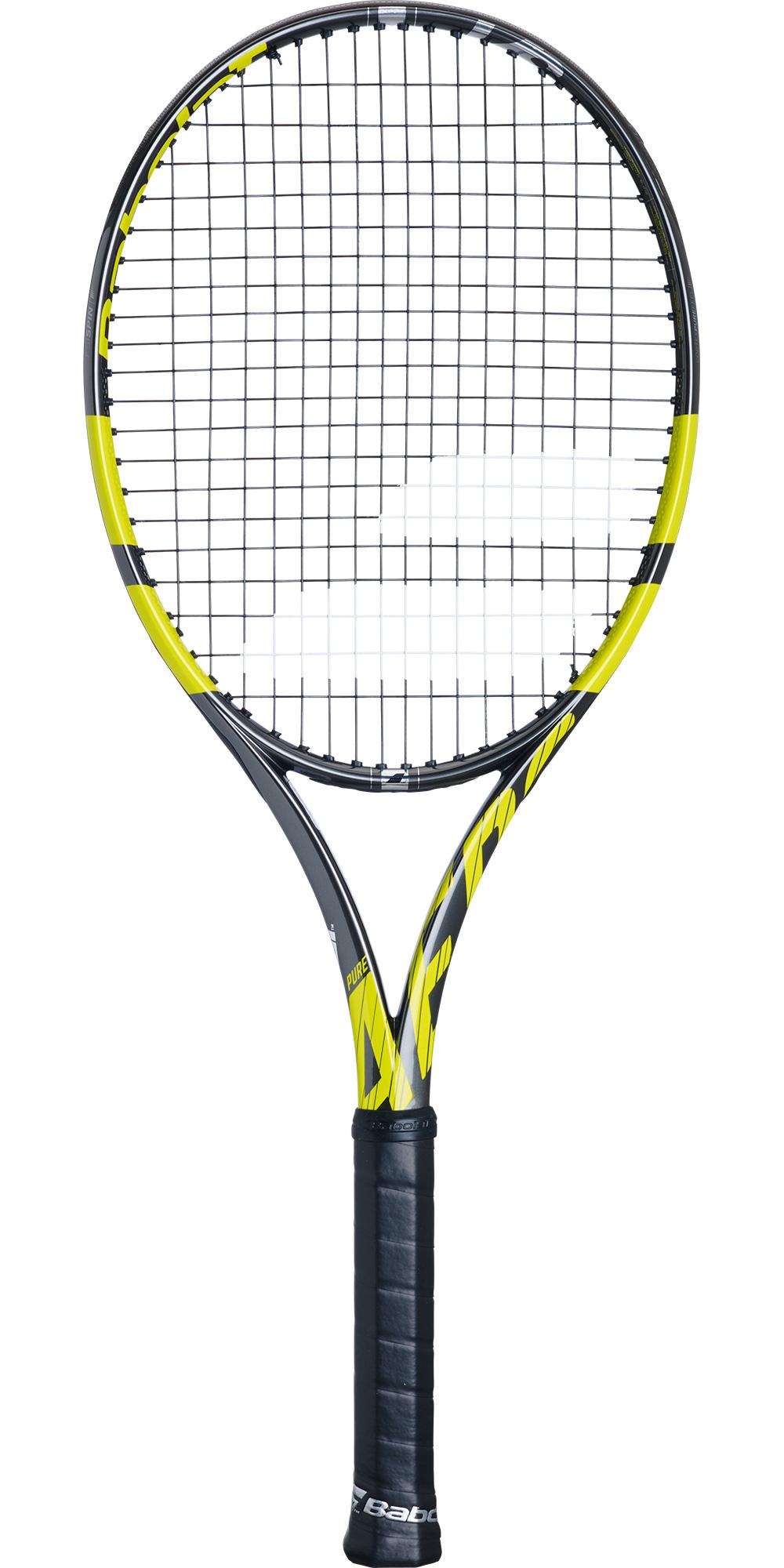 Volleys
Up at the net, The Pure Aero is arguably better than the Pure Aero Rafa, thanks to its extra weight and control. The balance of pace, maneuverability, and control offers a simple volleying game, with plenty of punch and speed. There is nice pop on the ball when you connect with the sweet spot, but there are mixed opinions about touch and delicate volleys. Some players may want to add extra weight at the hoop for more stability and a better feel, while others may feel connected enough for touch volleys. Those who like to play a simple offensive game with punch volleys should have no complaints here, especially for doubles games.
Serves
The Pure Aero VS is fast and spin friendly, and it is an adequate racket for serving. It's not quite as powerful as the Pure Aero Rafa, but there is enough power for flat and kick serves. Again, some added weight could alleviate this issue. The racket is loaded with spin and it is arm friendly. The control shines through, and those who generate their own power with hefty serves may prefer this racket over other Babolat rackets.
Returns
The stability and control allows players to take full cuts at the ball for returns. The 16x20 string pattern helps control the angled and powerful shots, and the swing weight gives players that versality to hit sliced and blocked returns. Sometimes the racket suffers against big hitters as the feel can be a little jarring, but customization and experimentation can help with this part of the game. In an overall sense, the racket is a consistent returner, packed with spin. With the easy maneuverability, access to spin and the slightly more controlled response compared to the standard Pure Aero Rafa, the Pure Aero VS is a great option for baseliners who need more precision and control for their game! Check out our Youtube review of the Babolat Pure Aero VS below: