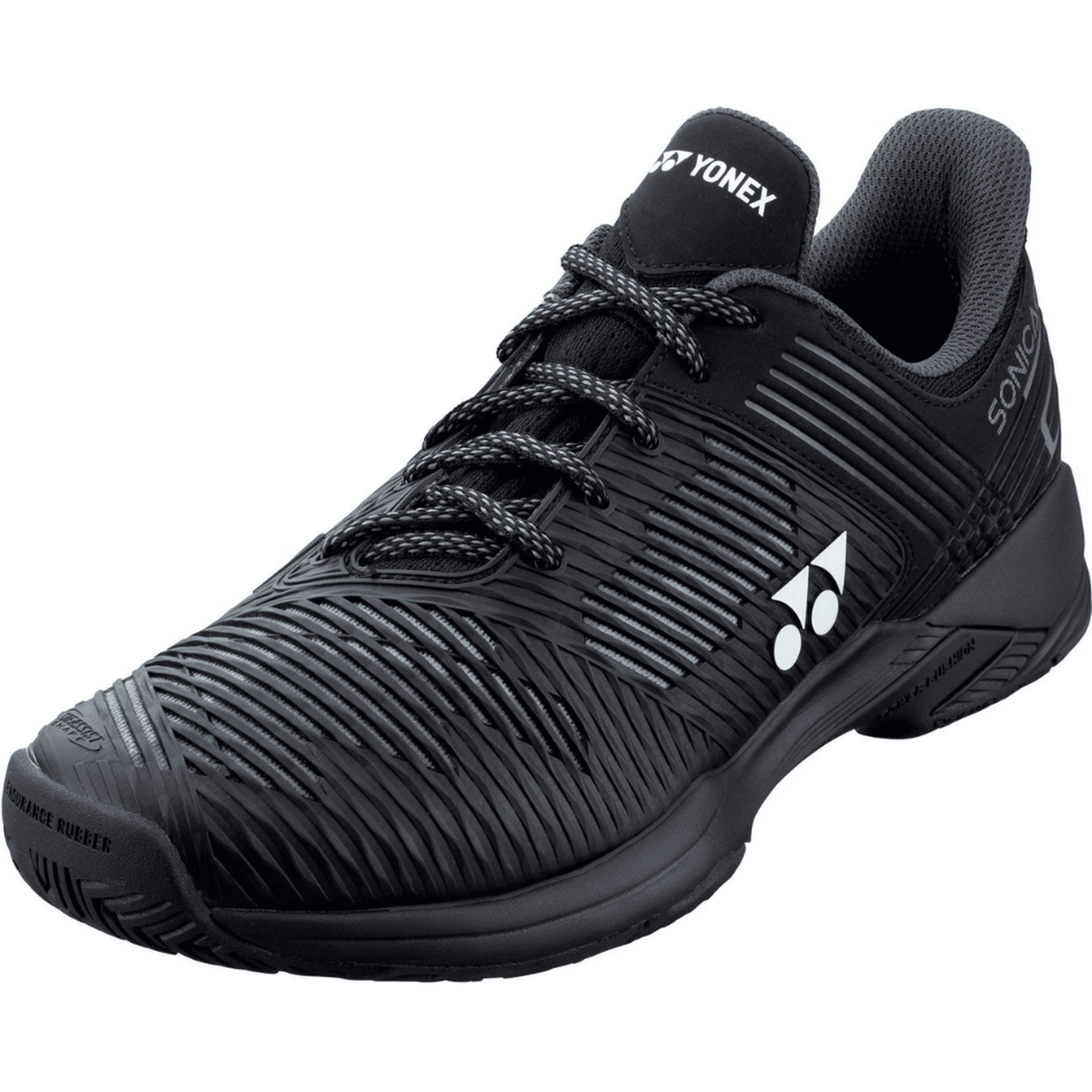 Yonex Mens Sonicage 2 Tennis Shoes - Black
£105.00
Out of stock
With an emphasis on light-weight comfort, the men's Sonicage 2 are updated with some of the best Yonex footwear technologies.
Colour: Black
Power Cushion+ - By adding a special elastic resin to POWER CUSHION, while maintaining the conventional lightweight properties, high shock absorption is realised. Grooves designed in a lattice pattern, with optimum spacing and depth, achieve further resilience. Compared with conventional POWER CUSHION, the new POWER CUSHION + boasts 25% more shock absorption and 12% more repulsion
Power Graphite - A graphite plate is inserted under the middle portion of the foot to increase stability and reduce weight within the shoe.
Hyper msLite - Hyper msLite is a further 10% lighter than the original high-performance midsole and provides greater durability and comfort. It also encourages significantly lighter footwork during play.
Round Sole - The YONEX Round Sole ™ is designed to provide all-around support for quick and smooth footwork. The Round Sole ensures smooth movements and the transfer of maximum energy.
Double Raschel Mesh - Double Raschel Mesh is an ultra fine mesh that is extremely lightweight and durable. It provides eight times more air exchange for releasing moisture than ordinary mesh fabric.
Durable Skin - Adaptive material that supports agile footwork with a stable yet flexible fit.
TPU Shank - Extended support into the forefoot for increased speed and stability.
Watch our video review:
We take pride in offering excellent customer service. If you need to change/return your items within 14 days of delivery please contact us on info@allthingstennis.co.uk or call/text on 0330 133 1378 (No returns offered on rackets with premium strung upgrade applied)